Completion of the 12 th grade is an important milestone in the academic journey of a student. After the 10 th standard, a decision was made with regard to what stream of study should be undertaken for the next two years – Arts, Science or Humanities. That set the foundation on which the future course would be determined.
Once the 12th Standard board exams are successfully completed, the next set of questions arise, this time more in relation to what is required to attain one's career goal. This involves a more focused decision-making process and one which must be well thought out after weighing all the options.
Let's identify some of the more prevalent questions on the minds of students who have completed their 12th standard and are now stepping into college life.
The primary question would no doubt be: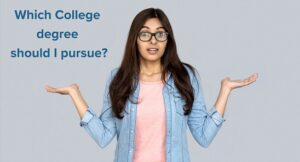 Once clarity is obtained on the same, other questions have to be addressed:
1. What are the top colleges or universities in India or abroad for the courses or programs I am interested in?
2. What are the entrance exams I need to prepare for to secure admission into reputable institutions?
3. How competitive is the admission process for my desired course or college?
4. What are the reservation policies and quotas that may affect my chances of admission?
5. What are the potential career paths and job opportunities after completing specific courses or programs?
6. Are there any state-specific or regional entrance exams I should consider?
7. How do I prepare for specific entrance exams for professional courses like the JEE (Joint Entrance Examination) for engineering or NEET (National Eligibility cum Entrance Test) for medical programs?
8. Are there any specific entrance exams or requirements for pursuing education abroad?
9. What are the popular choices for higher education abroad, and how do they compare to Indian institutions?
10. How can I leverage internships, summer training programs, or research opportunities to enhance my profile?
The answer to the primary question of: Which college degree should I pursue? is largely dependent on the student's interests, capabilities, passions, strengths and innate talents.
In traditional Indian society, a lot of weightage is given to the fields of Medicine, Engineering and Law. But in modern society, the career options in alternative domains are endless. With rapid advancements in technology and changes in society, there is a break away from conventional choices as new and varied career options have emerged. This means in-depth research and analysis have to be made on which college degrees will lead one onto the path of one's desired career choice.
And it need not necessarily be that one has to pursue a college degree. Vocational courses or non-academic courses are also available for those who have other interests or who are tied down by financial considerations. These courses help prepare students for a particular career, skill, or trade. They focus on practical skills, and on-site training and thus offer better & quicker job opportunities.
Is career guidance for 12 th Standard students necessary?
Some students are very clear about what they want to do in life – where their interests lie and what direction they should take to attain their goals. But a larger percentage are incapable of making a decision on their own as most are unaware of their strengths and find it difficult to gauge their capacity or potential. Deciding on a future career path based on the opinions of friends, family, or relatives might just not be the right way as they are likely to be based on biases and prejudices. This is where career guidance for 12 th standard students by an expert career counsellor will prove necessary and beneficial. Academic Career Counselling and well as psychological counselling will equip 12 th standard students to step into the future with a sense of purpose and confidence.
How Elysian's Career Guidance for 12th Standard Students can help you.
Our expert career counsellor plays a crucial role in providing the best career counselling for 12 th standard students:
1. By providing personalized assistance, helping students explore various career options and conducting self-assessments to understand their interests, strengths, and values.
2. Offering valuable insights into different courses, programs, and institutions, considering the students' aspirations and academic performance.
3. Assisting students in setting realistic goals and creating a roadmap for academic and career success.
4. Providing comprehensive information about admission requirements, eligibility criteria, scholarships, and entrance exams, helping students navigate through the application process.
5. Guiding students in writing personal statements, preparing for interviews, and developing essential skills for the chosen profession.
6. Offering emotional support, motivation, and encouragement during this transformative phase of students' lives, thereby helping them manage stress, overcome obstacles, and stay focused on their goals.
7. Additionally, empowering students with lifelong career development skills, including networking, resume building, and professional growth strategies.
With our career counselling for 12th-standard students, you will gain clarity, confidence and a sense of direction in your educational and career path. Your transition from school to higher education or to the workforce will be smoother and aligned with your interests, skills and aspirations.
If you are one of those who are lost and confused and in need of guidance, do get in touch with us to help you manage this challenging phase in your life. We offer you the best Career counselling in Chennai by helping you make informed decisions and setting you on the path to success and fulfillment.