SHOULD I GET A MASTER'S DEGREE?
If you're reading this, chances are you're at a crossroads in your career, wondering whether a Master's degree is the next logical step. Well, you're not alone. Not too long ago pursuing a master's degree was a given, especially for
those who could afford it. However, today's prospective students face a dual challenge. They have to consider the return on investment for a master's degree while factoring in the rapidly evolving job market characterized by the rise of artificial intelligence and a growing emphasis on skills-based employment.
So, let's delve into the subject and help you make an informed choice.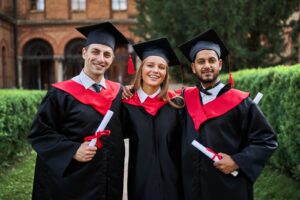 BENEFITS OF A MASTER'S DEGREE
1. Professional Growth:
If you're striving to elevate your career, secure better job prospects, and potentially land higher-paying management positions while aiming to stand out among your peers, then pursuing a Master's degree could be the right move for you.
With in-depth knowledge and understanding gained by deep diving into your chosen field, you will gain expertise, be equipped to take on leadership roles in the workplace and even mentor others. At the same time, you will boost your credibility and market value. Plus, it could open the door to switching careers, even if your bachelor's degree isn't in the same field.
2. Personal Growth:
Beyond career prospects, your Master's degree can be a catalyst for personal growth. It's a transformative journey that equips you with essential life skills. You will be able to sharpen your critical thinking, master Time Management and enhance your presentation skills all of which are indispensable in today's fast-paced world. Moreover, it would be a personal milestone that boosts recognition and self-esteem, provides intellectual stimulation, and promotes a sense of accomplishment.
FACTORS TO CONSIDER BEFORE PURSUING A MASTER'S DEGREE
Most of us decide to pursue a Master's degree just because everyone is doing it. This should not be so. Before committing to it, we need to seriously evaluate the pros and cons of getting a master's degree.
Let's consider three vital factors that should shape your decision. It's about making an informed choice that suits your goals and situation.
1. Career Goals and Industry Requirements:
Before starting a Master's degree, assess your long-term career goals. Research your industry to determine if a Master's degree is actually needed or just a value add. Some professions, like doctors, nurses, professors, and scientists, mandate a Master's degree. If your aspirations align with these fields, pursuing a Master's is a wise choice.
However, in today's rapidly evolving job market, it's essential to recognize that certain professions may not necessitate a full Master's degree. Many careers now value specialized skills and practical knowledge over advanced degrees. Consider whether your desired field may benefit more from targeted upskilling, certifications, or short courses tailored to meet industry demands. This alternative approach can provide a quicker and cost-effective path to career advancement without the commitment of a full Master's program.
2. Money Matters: Consider Your Finances
Financial considerations for a master's degree are a significant factor in your decision-making process. While the allure of pursuing a Master's degree is undeniable, financial constraints may pose a hurdle. It's vital to acknowledge this challenge and explore avenues to achieve your academic dreams without a heavy financial burden.
Options like student loans, part-time work, and Master's degree scholarships and funding opportunities can pave your way to higher education without overwhelming debt. For working professionals, employers may offer tuition assistance programs, which you can access by showcasing your Master's degree's value to your company. By researching these pathways and tailoring a financial plan to your situation, you can make your Master's dream both feasible and financially manageable.
3. Choosing the University
Deciding to pursue a master's degree, such as an MA, MBA or MSc full-time or part-time, on campus or online, is a big decision. To navigate this path effectively, begin by:
Carefully selecting a reputable university that aligns with your career goals.
Choosing a Master's program with a specialization that genuinely interests you, as your passion will be a key motivator.
Consider the program's duration, which typically spans around a year or more for quality programs.
Investigate the curriculum by reaching out to the university program managers for insights.
Understand that a Master's degree can open doors, but along with your skills, your educational institution's reputation also plays a vital role in the pursuit of your dream job.
MASTER'S DEGREE vs. WORK EXPERIENCE
In the debate of Masters's degree vs. work experience, it's important to recognize that employers value both, but the emphasis may vary by industry. Competitive fields like finance and technology often prioritize a Masters's degree, while others, such as education and social work, place more weight on work experience.
Your individual goals and circumstances should guide your decision. Consider your career aspirations, financial resources, and personal preferences. What kind of job do you want? How will you finance your education? Do you prefer classroom learning or on the-job experience? Combining education with work experience is another viable option.
Today's economy often favors experience over additional schooling, but the choice that benefits you more depends on your field and how confident you are in your current abilities. If you're well-prepared to succeed in your field, jumping into work may be the best choice. On the other hand, if you lack confidence, further education can be valuable.
When evaluating job market dynamics, work experience is often a more attractive asset. However, having both work experience and a Master's degree can be a powerful combination, and some employers may even assist with
tuition costs to enhance your knowledge.
Ultimately, there's no universal right or wrong choice. Pursuing excellence in your chosen path, whether it's through advanced education or immediate career advancement, is the key to unlocking new opportunities and a successful
future.
MAKE THE RIGHT DECISIONS WITH ELYSIAN – YOUR CAREER COMPASS
Amidst the fast-evolving work environment, the choice between pursuing a Master's degree and diving into the workforce can be bewildering and, at times, frustrating. The constant transformation of the job market and its ever-evolving skill demands may make you feel lost and unsure about your academic direction. And you might be persuaded to join the academic "bandwagon" without a clear career progression path.
This period of uncertainty can be challenging, as your future hangs in the balance, leading to frustration stemming from a lack of self-awareness regarding your potential, strengths, capabilities, and interests. Proper career guidance can alleviate the stress and tension that often accompanies such pivotal decisions. It can shed light on your unique potential and steer you toward a fulfilling career. Elysian is here to offer professional career counselling for college students, recent high school graduates, and anyone navigating these uncertain waters. We will deep dive with you, explore options and help you gain clarity on the burning question: "Is a master's degree worth it?"
So, are you ready to make informed decisions about your educational and professional journey?
Elysian is your portal to experiencing the "best career counselling in Chennai"and offers versatile "online career counselling" options to help you make informed decisions. Reach out to us today and discover the path that's right for you.